Breaking . COVID-19 . News
Mzansi COVID-19 infections reach 2 million
On 3 Jul 2021 by Mapepeza
South Africa has officially crossed the 2 million mark in cumulative cases recorded with 2 019 826. As of Friday, July 2, about 24 270 new cases were reported.
"In the last 24 hours, 303 deaths have been reported which brings the total to 61 332 deaths reported as at 17:00. Number of recoveries is 1 773 930 with a recovery rate of 87.8%," said the department of Health.
South Africa has 184 456 active cases. The month of June has seen a huge spike in daily cases, particularly in Gauteng (see graph).
These statistics prompted the Government to put the country on Adjusted Alert Level 4 lockdown until mid-July.
While Gauteng remains the epicentre of the COVID-19 pandemic, acting Health Minister Mmamoloko Kubayi-Ngubane has warned that many provinces in the country are almost at red alert as infections continue to increase.
Provincially, Gauteng currently accounts for the majority of new cases (59%), followed by the Western Cape (11%), North West and KwaZulu-Natal (7% each) provinces. 
"The trends are clearly showing that other provinces which are currently lagging are going to experience the trend we are seeing in Gauteng, most notably in the Western and the Eastern Cape. What worries us as well, is the positivity rate. If you look at Limpopo, it has almost 42% of positivity rate, which is leading in terms of positivity rates," Kubayi-Ngubane said.
New variant spreading rapidly
The minister said that nationally the third wave numbers have surpassed the first wave peak and are likely to surpass the second wave peak.
The new variant, called the Delta variant, is quickly becoming the dominant variant in the country, replacing both the Alpha variant experienced in the first wave and Beta variant experienced in the second wave.
However, the Minister reminded the public that the Beta variant is still prevalent and spreading.
"An important characteristic of the Delta variant is … those who were previously infected by Beta were immune from reinfection by both the Alpha and Beta variant – it is not the case with the Delta variant.
"This means that those who have had COVID-19 are at a risk of reinfection by the Delta variant," Kubayi-Ngubane said in a media briefing on July 2.
Vaccine update
About 3 292 671 vaccines have been administered thus far, with 129 359 vaccinations in the past 24 hours. Cumulative registrations for vaccines nears the four million mark, now sitting at 3 962 143.
"The vaccination of educators is progressing well and we have so far vaccinated just over 300 000 educators. We had more educators registering in KwaZulu-Natal and followed by Gauteng," Kubayi-Ngubane said.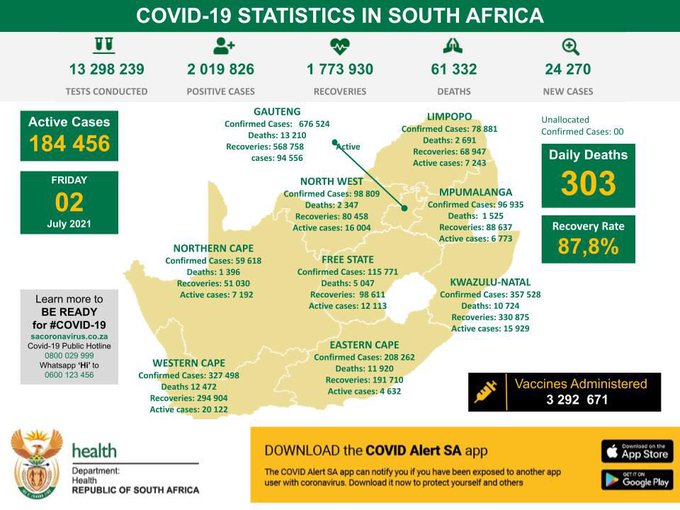 You may also like
---
---
---
---
---
Processing…
Success! You're on the list.
Whoops! There was an error and we couldn't process your subscription. Please reload the page and try again.
---