President Cyril Ramaphosa has announced that South Africa will now move to Alert Level 3 lockdown. Following a recent surge in COVID-19 infections in the country, the President said in his address that stricter measures must be taken to reduce the spread of the Coronavirus.
"In view of the rising infections, we have therefore decided to move the country to Alert Level 3. This will take effect later this evening once the regulations have been gazetted," said Ramaphosa.
Restrictions
The hours of curfew will start at 10pm and end at 4am.
Non-essential establishments like restaurants, bars and fitness centres will need to close by 9pm to allow their employees and patrons to travel home before the start of the curfew.
All gatherings will be limited to a maximum of 50 people indoors and 100 people outdoors. Where the venue is too small to accommodate these numbers with appropriate social distancing, then no more than 50 per cent of the capacity of the venue may be used. This includes religious services, political events and social gatherings, as well as restaurants, bars, taverns and similar places.
Attendance at funerals and cremations may not exceed 50 people and all social distancing and health protocols must be observed.
Night vigils, after-funeral gatherings and 'after-tears' gatherings are not allowed.
The sale of alcohol from retail outlets for off-site consumption will only be permitted between 10am and 6pm from Monday to Thursday. This excludes public holidays. Alcohol sales for on-site consumption will be permitted as per license conditions up to 9pm. Alcohol consumption in all public spaces, such as beaches and parks, is strictly prohibited.
"The measures we are putting in place now are appropriate to the level of risk and necessary to save lives.   In addition, several important measures remain in place.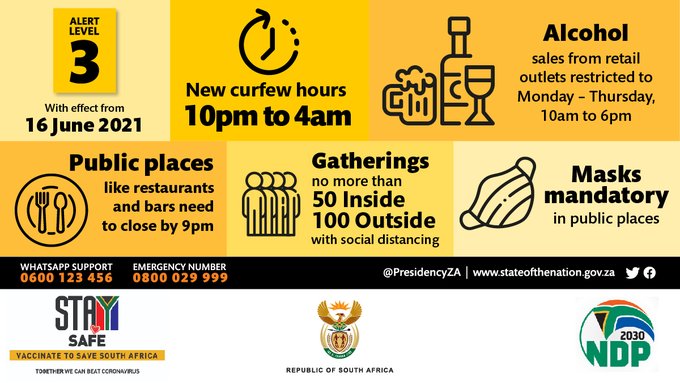 National vaccine rollout
President Ramaphosa gave an explanation for the slow progress Government is making in vaccinating the country. A series of delays from pharmaceutical entities producing the vaccines were mentioned.
"After the AstraZeneca setback, the Johnson & Johnson vaccine appeared to be the best option for our country as it protects against the variant, because it requires only a single dose and is easier to store and transport. However, the supply of Johnson & Johnson vaccines was held up by an investigation into contamination of ingredients at a supplier factory in Baltimore in the United States," said the president.
Until now, the mass vaccination programme relied on the Pfizer vaccine, which requires two doses.
According to Ramaphosa, almost 480 000 healthcare workers have been vaccinated as part of Phase One of the programme. As part of Phase Two, a further 1.5 million health workers and people over the age of 60 have received the first dose of the Pfizer vaccine.
This brings the total number of people who have received a vaccine dose to almost 2 million.
The president also said that the pace of vaccinations has steadily picked up.
Currently, South Africa is vaccinating around 80,000 people daily across 570 sites in the public and private sector.  
"This number will grow rapidly in the weeks to come, as we aim to protect as many vulnerable people as possible," said Ramaphosa.
President Ramaphosa also called on every person over the age of 60 to register – whether online, by SMS, by phone or in person, and get vaccinated without delay.
Also, help to register someone you know over 60 years who has not been vaccinated, so that they can get vaccinated